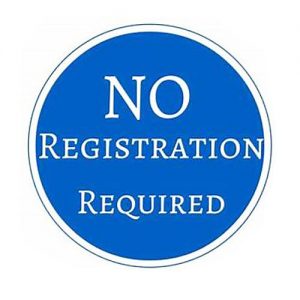 To register or not to register. The choice is yours!
Customers sometimes ask if registration is required on our website and the answer is always, absolutely not. While we do offer the registration feature, we never require anyone to do so and will never pressure you into it.  Some customers like having an account where they can review their purchases, check on past orders, and more.  We understand this, but also recognize it should be a personal choice and your decision.
With online shopping so popular and convenient these days, it is evident that a growing number of companies require it.  If you are a buyer of supplies for your business, make frequent purchases at a specific site or shop for a household several times a week, we understand the benefits. But, people are becoming more concerned about online data than ever before and rightly so. There are convenience factors with an online account, but with cyber security theft and attacks in the news almost daily, many customers feel that the less personal information stored on the web, the better.  We tend to agree. We also avoid online stores that make you register just to see their products.
Why do some companies require it?  In simple terms, to track and use the information to market to you and sell more products.  Companies spend billions of dollars each year to tap into customer data. With online registration accounts, businesses can watch your shopping patterns, determine when you shop, what products interest you the most and even analyze and rank you based on your transactions. This is something we have chosen not to do.  A registered account is for the customer's convenience only and we do not track information from account registrations. We do not monitor registered online accounts, track you, watch you or stalk you. That is a promise.
We, like our customers, want to be treated fairly, discreetly and largely unmonitored when we shop online, and a mandatory registration is something we frown on. We find it a turn off and know it can turn away a customer.  Most of us here at Chopa, admit to leaving an online site at some point, if we had to register.  It can be annoying, frustrating and a nuisance.  Between work and home, it isn't uncommon to already have an ocean of logons and passwords we have to deal with, so why add another one? This is especially true if you are making a unique purchase or a one time buy. If you are buying a green, two-sided, polka dot widget with sparkles online, why would you want to register if you won't need another one for five years?
Most people are aware of the incessant tracking done regularly today. It has become a byproduct of our online activities. If you are on social media such as Facebook, Twitter or just using your cellphone, you are being tracked, monitored and your data is being stored, analyzed, used and profited from. Chopa might be a small piece of the world's puzzle we live in and play on, but we do our part to be as minimally invasive as possible.  One of our mottos has long been, "Shop with Confidence" and that holds true with online registrations. They are optional and the decision to register is yours and only yours.  If you have thoughts, comments or experiences on this subject, we invite you to share your ideas. We always welcome feedback. We also appreciate online privacy and this is something that is being taken away, site by site and day by day.  Our message to all, Stay Safe. It's the Wild West out there.
Tags: easy shopping experiences, kimono shopping, online shopping, privacy, yukatas online