GALLERY ROOM #1 Next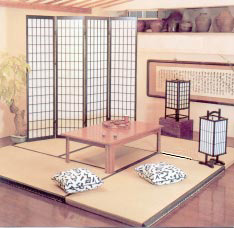 Create the feel of a Japanese tearoom anywhere in your home, with these decor ideas...
-Notice how the Tatami Floor Mats act as a stand alone flooring on top of any level surface. Nothing else needed!
-We used a Traditional Black Shoji to define the space.
-Create soft light with a Shoji Lamp.
The staff at Chopa Zen Home & Gift can answer any questions about our products, sizes, weights and materials used. We also offer and can match many freight discounts, because furniture items can be quite costly to ship. If you need interior design advice or contracting advice, please contact the respective professionals. We also offer a Japanese interior decor book, withTatami Room installation ideas as well as a Japanese Garden book.