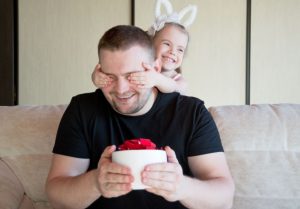 Father's Day is a day of recognition. We remember our father's both passed and present. It's common practice of celebration to share a meal together, let dad have the day off or do something he truly enjoys.  Outdoor events are popular, whether attending a sporting event, golfing, a day at the beach, a barbeque, hiking, riding bikes or whatever it is he loves to do. Some families let dad have a day at home, alone and  uninterrupted to enjoy quiet time, gathering thoughts, taking a nap, catching up on TV shows he likes with some binge watching or even having a day with just the "boys" and good friends. While it is traditional to present him with a gift, it isn't necessary and many feel spending time with him is worth more than any gift. Gifts do not have to be expensive, but personal in meaning to show that you remembered him and want him to know he is loved and appreciated. But where did Father's Day originate?
Father's Day started in Spokane, Washington in 1910 by Sonora Smart Dodd at a local YMCA. It was supposed to compliment Mother's Day which was already being recognized. Ms. Smart's father, a Civil War veteran and single parent had raised six children and was living at the YMCA.  Ms. Dodd spoke to her pastor at church about creating a similar day to recognize fathers. It was difficult getting the word out and making this an annual event. Little did she know it would take nearly 60 years to be fully recognized.  President Woodrow Wilson went to Spokane in 1916 to speak at the Father's Day celebration, but resistance and apathy made it difficult for the idea to be fully accepted. In fact, after about a dozen years, Ms. Dodd who resided in Chicago returned to Spokane to resurrect the idea. She knew she needed national awareness and began contacting companies that could help, and perhaps benefit themselves like tobacco pipe manufacturers, tie making companies and clothing retailers.
Most people continued to resist the idea for several decades, believing it was just a day that retailers created to drive up sales, like they did for Mother's Day. The retailers persisted, building a larger following and throughout the years garnered more and more support to make this a well remembered day. It was in 1966, when President Lyndon Johnson proclaimed the third Sunday in June as the day to recognize fathers. Six years later, President Nixon made it a permanent holiday by signing it into law in 1972.
In the U.S., Father's Day is now the fourth biggest day for greeting cards with approximately 72 million being sent. Of those, nearly  20% are given by wives to their husbands. Over 70% of men plan on celebrating Father's day in some way. Last year, 46% of men spent money on clothing while 44% purchased gift cards. The most popular gift purchased is neckties. Over 40% want to buy their father, step father or husband a unique and special gift. Female shoppers spend 50% more on gifts for their fathers than their male counterparts. Father's Day garners half of the amount of gift spending that is spent on Mother's Day. Father's Day is also the busiest day for collect calls.  Today, over 40 countries around the world have a special day to honor dads and flowers are not just for Mothers. The official flower for Father's Day is the rose. Tradition states that a red rose is worn in your lapel on Father's Day if your father is living, and a white rose is worn if he has passed away.
No matter how you plan on spending Father's Day, enjoy it. Whether your father is present or passed, take a moment to recall, reflect and honor the person who is or was your father. Happy Father's Day.