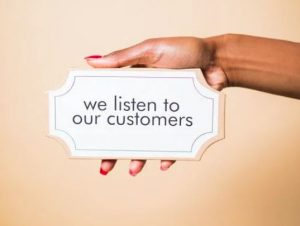 We receive a steady flow of positive reviews, compliments and thank you notes from customers and work hard to provide all customers with a great shopping experience. Once in a while, we receive a complaint, which can be expected since people have different assumptions about what their experience will be. Thankfully, the complaints are far and few between, which lets us believe we are doing the right thing, communicating well, offering great products, fair pricing and excellent service. In business, a customer that has a negative experience is likely to leave a bad review. This is especially true today with social media and online reviews making it so easy to post. On the flip side, a customer that has a great experience is less likely to leave a positive review. In general, only one in ten happy customers will leave positive feedback.
Since we receive so many positive comments and reviews, it surprised us recently when a customer left us a negative review on a rating site. It was the customer's first experience shopping with us and we are certain their last. The puzzling piece about this feedback was that the customer never contacted us to discuss the matter or give us a chance to rectify their complaint. Instead, they chose to post and broadcast to the world how bad we are as a company in general.  Because of one issue, this customer labeled all of our products as inferior and not worth the money.  The comment was difficult to swallow considering we have over 100 products and have served over 32,000 happy customers.  If we offer such poor quality products as was claimed, how would we last over 25 years in this business? It simply made no sense to us.
As we read and discussed the review in a staff meeting, it became more obvious to us that this person damaged the robe through their own negligence.  At first, they implied that the kimono arrived with tears in it and claimed that because our return policy was too difficult, they were now stuck with this robe. They also elaborated on being a near-expert on Japanese kimonos because of some life experience. Granted, we are ad-libbing a bit here and everyone, especially customers are entitled to their opinions, but as a reputable kimono dealer for nearly three decades, it became evident after their story changed a few times that this person simply wanted to blame someone else rather than accept their own responsibility for their situation.
We are confident that the kimono arrived in perfect condition, it was worn a few times, they tore it and wanted to pass blame on us. Otherwise, why wouldn't you have reached out to us to ask for a replacement?  If we ever make a mistake by sending out the wrong color, size, or the robe actually had a flaw, we stand by our reputation and would have corrected the issue at our expense. Our manufacturers have stringent quality assurance plans in place. We receive very few returns and of those we receive, most are simple exchanges. Everyone is human and if we make a mistake, we fix it. Unfortunately today, there are people that just don't want to accept responsibility for their own actions and instead choose to blame others. We believe this customer purchased a size that was too small and that is how it tore. This would happen with nearly all fabrics. If stretched and pulled with too much force, cotton will tear.
This reminded us of how fragile business review systems are today. With the internet, information is passed at lightning speed and with little recourse. The right thing to do when you are unhappy with a situation is to contact the business and discuss it with them. Don't become frustrated and paint an unrealistic and untrue picture of someone. We look at all reviews and comments with the utmost attention and seriousness. Negative reviews are harmful to a reputation and can be difficult to overcome. We have made exceptions to our policies and have gone out of our way to make a customer happy. No business wants an unhappy customer. If this person would have reached out to us, we might have been able to do something, but we were never given a chance. In the end we both lost.
Be aware of the importance of good communication and feedback.  If you have a problem with something you buy or a service you hire, give the business a chance to help and fix an issue. You could save yourself money, save your sanity and above all, focus on believing in people and businesses rather than being angry and aggressive. It isn't good for your soul and certainly isn't good for anyone around you.  It is a good lesson and one we will remember.  Life is too short, be happy!