We received a steady stream of questions during the peak and early stages of the Covid-19 outbreak beginning in March, 2020.  Customers  asked if our kimonos were safe? Was there risk of obtaining the virus from our kimono and yukata? What precautions were we taking? Were we open? Since we import from Japan, how safe were our robes? The answer to these questions, was that yes, our kimono were and are safe. Yes, we took and take a lot of precautions. Yes, we were and are open.
Chopa Zen Home stocks a rather large inventory of kimono and yukata robes throughout the year. Even with the outbreak, we had plenty of kimono in stock that we received months before any outbreak of the virus was known.  Our inventory levels constantly turn as orders ship out and new deliveries arrive. Some styles sell quicker than others, while some have unusual patterns similar to many retail products in your local store. Style XYZ may sell just a few one week, then the next week rolls around and sales of that style explode.  We don't always know why this happens, but it is part of the business and we try our best to adjust and move with the flow. Tracking previous sales patterns establishes a baseline for future sales, but there are always outliers that can take place and that is when things become unpredictable. A story may be shown on TV about kimonos, a movie may run several times over a weekend that showed the Japanese lifestyle and actors wearing yukata. A well known celebrity may appear wearing a kimono and we see a spike in sales, especially in that particular style.
Our producers in Japan were very cautious throughout the pandemic and remain so.  Masks are worn, hands are sanitized, gloves are used and many staff members work remotely or in well ventilated rooms with partitions set up between each work station. Orders are packed with care, boxed, sealed and shipped air freight which lessens the time in transit.  Once they arrive, our staff uses the same practices to assure their safety as well as our customers. Masks, gloves, partitions, some remote work and constant sanitizing are and were the norm for many months. With so many people in the USA staying home through furloughs, work-at-home assignments and business closures, we saw a large increase in business like many other online retailers did. People were afraid to go to stores to shop, discovered the many benefits of online shopping and wanted casual things to wear while at home. Since Kimono and Yukata robes are so popular as loungewear, shopping for kimonos was an easy choice, especially with our large selection of prints, colors and sizes. We are proud to say we introduced many new customers to the fine luxury of wearing a yukata while lounging, working at home or taking care of kids and the Homefront. Welcome to all of our new customers and thank you for all of your kind words you sent our way. It is always a joy to read how much customers love their robes. It is also gratifying to see how many repeat purchases are made as people realize they want a second or third kimono to expand their new style at home.
Chopa is happy to report that we had zero infections among staff and families throughout the pandemic. The precautions we took benefitted everyone involved and our staff meetings were open for everyone to share experiences outside of the office, to relay what precautions they took when venturing out for groceries, gasoline, errands and the like.  Sharing our stories went a long way in educating ourselves on what or what not to do to stay safe.
With shutdowns and ongoing government restrictions in Japan we came across and still face challenges to keep our selection as full as possible. Sometimes we have to scale back orders or adjust timeframes in production. Other times we make adjustments solely to help our partners and producers. It was often more difficult on them, since many of their customers shut down and business slowed. There were restrictions on workdays, openings, number of people allowed in one workspace location and more. Obtaining fabrics was and still is an  obstacle. Businesses that dye fabrics face mandated closures or went out of business. Some cotton fabrics are still scarce or unavailable. Silk robes have been the most difficult to obtain. We have been unable to offer new silk stock for nearly a year. This sources back to the silk mills where the fabric is made right through to the dyeing and printing of the material.  Chopa anticipates this will change in the coming months and we will be offering beautiful silk kimonos again by the Christmas season. Silk Happi Coats are always popular as gifts. Soft, silky, smooth to the touch, short and sexy, they make magical gifts for men and women.
If you shop our online store and see some empty slots of a particular size or pattern, don't hesitate to send us a text or email and ask.  We are working hard each day doing what we can to keep adequate supplies for large and full selections of kimono robes, but sometimes things happen beyond our control. We can always provide you with an update and we maintain a courtesy email notification service. When a style or size you seek is out of stock, ask us to put you on this alert system. When that yukata or kimono arrives, we will notify you by email. There is no obligation to complete a purchase, we only email you once and your email will not be used for marketing. It is deleted once we send out the notice.  Once again, we thank all of our customers for your support. As always, let us know what you think.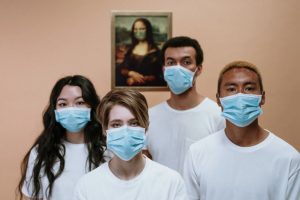 Photo courtesy of cottonbro.