Tatami Mat Information Guide
Tatami Mats Benefits | Which Tatami Mat? | Tatami Mat Materials | Tatami Mats Care | Layout Ideas | Shipping
Benefits of Tatami Mats
Tatami mats help to clean the air by absorbing nitrogen dioxide in the room. They are also hydroscopic; absorbing moisture during periods of high humidity and naturally discharging the moisture when the air is dry. Tatami mats act as an insulator as well, keeping your room cooler in the summer and warmer in the winter time.
Which Tatami is Right for Me?
Our tatami mats offer both quality and value. Our manufacturers have met ISO standards and practice sustainable procurement of materials used in the assembly process. The rice straw mat is the traditional and most popular tatami fill. It offers a slightly softer feel vs. fiber or foam filled mats.
Tatami Mat Materials
Our Tatami mats are carefully crafted according to Japanese manufacturing specifications. The top of the mat is constructed from a double layer of woven igusa rush grass. The rice straw fill is naturally dried for many months and baked at a steady temperature to create a pest free, sterile fill that is safe for your home. Each Tatami is sewn together with 100% cotton twine and finished with a traditional black or brocade border. Our Tatami mats include a moisture resistant barrier that is sewn into the bottom foundation to help protect your mat and to enhance the life of the mat. Tatami mats are not fire retardant.
Care of Tatami Mats
Tatami mats are greenish when new and will dry over time to become tan in color. To extend the life of your Tatami, keep them dry to avoid possible mildew. It is recommended that you remove the mats several times a year and allow them to air out on a dry and low humidity day for up to a few hours. If your climate is damp, a room dehumidifier will also help protect your Tatami. To preserve the life of your mats, remove your shoes before stepping on them. If you use a futon or mattress on top of your Tatami, air-dry your mats by removing the futon or mattress on a regular basis. If your bed is situated in a room with high humidity or with limited ventilation, stand the mats up on edge outside on a sunny day for a few hours, to eliminate excess moisture.
To freshen and protect your mats, rotate them regularly to avoid wear from highly trafficked areas. Use a slightly damp cloth for general cleaning. Do not use strong detergents or abrasive cleaners as these may damage the surface of the mats. For stubborn marks, use an equal portion of white vinegar and water using a damp cloth.
Layout Ideas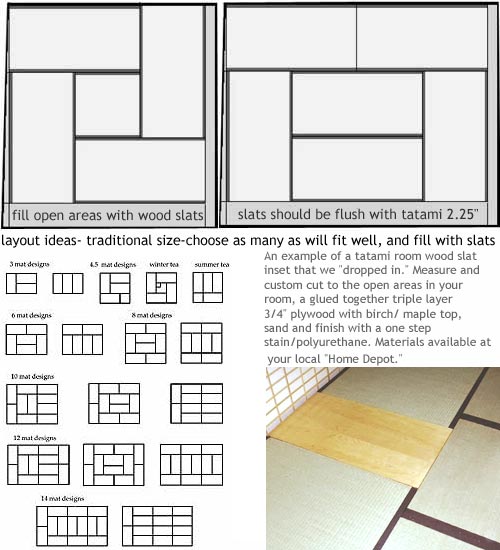 Shipping
Orders for one or two mats normally ship via FedEx Ground service. Orders for three or more pieces are normally shipped via freight truck. Please call us at 1-850-215-0019 or contact us with any questions about shipping for quotes to Alaska, Hawaii or Canada. When emailing us for a shipping quote, please specify the number of mats, size and provide your city and zip code. We will respond to your inquiry as quickly as possible.

Standard shipping is available and included in our pricing throughout the continental U.S. We can also ship to Hawaii, and Canada for additional costs. Sorry, but we are unable to ship Tatami to other international destinations, but can ship to your freight forwarder along the USA borders.